Golden Triangle with Mumbai and Goa
Tourism in India has grown rapidly in the past decade with a great rush of tourists from all around the globe. Travel to India means experiencing traditional hospitality, vibrant markets, delicious cuisines, colorful festivals and charms of history. There is one such circuit which is greatly admired to experience the rich heritage and relive the past of India. It is The Golden Triangle Tour which covers Delhi, Agra and Jaipur.
While Delhi portrays a mix of architecture, Agra salutes the spirit of love and Jaipur embraces the royal heritage. The Golden Triangle trip covers famous heritage sites of India, majestic monuments and vibrant markets. One can capture amazing views of sunset/sunrise at Taj Mahal. It is one of the seven wonders of world and a major highlight of the Golden Triangle tour. You will visit the famous city of Fatehpur Sikri which was built in 16th century by Emperor Akbar. The pink city of Jaipur lets you relive the past through its forts and palaces. Visit to City Palace, Hawa Mahal and famous Amber Fort are also included in the Golden Triangle vacation. City Palace was established at the same time when Jaipur was established. The red and pink sandstone adds more to the beauty of City Palace. Amber Fort is one of the most visited forts in India and features on the list of Jaipur's major attractions. Made of marble and sandstone, its architecture is an infusion of Hindu and Islamic styles. This tour will also take you to visit one of the holiest city, Varanasi. It has always been an important pilgrimage for Hindus. Famous for its grand festivals and colors, it is favorite destination amongst people travelling to North India. Lastly, we visit Khajuraho which is home to numerous temples. Its temples symbolize both Hindu and Jain religions and will surely enlighten your religious spirits. The Golden Triangle tour along with Varanasi and Khajuraho tour is worth visiting.
Day 1 Delhi
Arrive at Delhi airport. The Cloud Itineraries representative will escort you to a pre booked hotel. You have the rest of the day to simply relax in hotel.
Day 2 Delhi
Post breakfast, set out for a guided tour of city. Begin with Jama Majid and move through the busy alleys of Chandni Chowk. It is one of the busiest markets of Delhi. Pay homage at Rajghat which is Mahatma Gandhi's memorial and drive pass India Gate, Parliament House and Rashtrapati Bhavan.  Visit one of the highest Minars of India, Qutub Minar. Also explore Humayun's Tomb which is a splendid example of Mughal architecture. Return to hotel for an overnight stay.
Day 3 Delhi – Jaipur (280 kms/5-6 hrs)
Head towards Jaipur by road. Post arriving; explore vibrant markets of the city.
Day 4 Jaipur
 Leave for a full day guided tour post breakfast. Visit one of the most famous forts of Rajasthan, Amber Fort. Explore City Palace and Hawa Mahal.  Hawa Mahal is situated right beside City Palace and is beautifully built by red and pink sandstone. Enjoy evening tea at Nahargarh Fort and experience sunset. Return to hotel.
 Day 5 Jaipur  – Agra (260 kms/5-6 hrs)
 Drive towards Agra in the morning. Stop at Fatehpur Sikri and witness the beauty of both Indian and Muslim architecture while exploring  the sandstone city of Emperor Akbar and  palace of Jodha Bai , Birbal Bhavan and Panch Mahal. Later in evening visit Agra Fort which is a very attractive and peaceful destination. Shop for specialities at local bazaars.
  Day 6 Agra – Khajuraho
 Witness the breathtaking beauty of Taj Mahal during sunrise. Taj Mahal is an epitome of love since it was built by Emperor Shah Jahan in memory of his beloved wife, Mumtaz Mahal. Leave for Khajuraho by train and head towards hotel for an overnight stay.
 Day 7 Khajuraho
 Post breakfast, leave for a full day tour of Khajuraho temples. They are famous for their ancient structures and portray some of the finest art of the world. These temples are classified into three categories: Eastern, Western and Southern. These temples belong both to Hindu and Jain religions and will leave you flabbergasted.
 Day 8 Khajuraho – Varanasi
 Post breakfast, catch a flight for Varanasi and check in at the hotel. In evening, witness the famous Ganga Aarti by the banks of river Ganges.
 Day 9 Varanasi
 Post breakfast, enjoy boating at river Ganges. Later in afternoon leave for a city tour and an excursion to Sarnath, a place where Gautam Buddha first taught the concept of Dharma.
Day 10 Varanasi – Delhi
 After breakfast, reach airport for your flight to Delhi so that you can connect with your departure flight.
Guided tour to the old lanes of Chandni Chowk and Qutub Minar
Halt at Fatehpur Sikri
Visit magnificent Amber Fort and Jantar Mantar, Jaipur
Shop some exclusive stuff from vibrant local bazaars of Jaipur
Have a picturesque view of Taj Mahal, Agra
Enjoy boat ride and Aarti at the Ghats of Ganges, Varanasi
Experience the famous temples of Khajuraho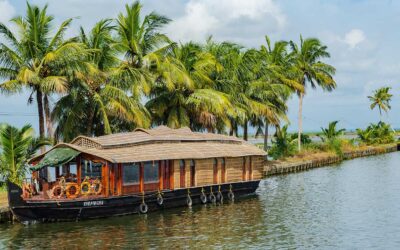 Kerala also known as God's own country is one the major tourist destinations in India. It is no doubt that Kerala is one of the most beautiful places on earth. Situated between the Western Ghats and Arabian Sea, the narrow strip is known as Kerala. Tourists from India...