Golden gems of India – Golden Triangle with Amritsar
This Golden Triangle tour lets you explore the Golden Triangle along with one of the most spiritual places in India known as Golden Temple situated in Amritsar. The Golden Triangle tour is highly admired and a very popular circuit of India. It takes you to India's most visited cities Delhi, Agra and Jaipur. These cities provide an introduction to India's rich heritage, culture and its charms. Well connected by road and rail links, these cities are located at a mere distance of 200-250 kms from each other making travelling easy. Accessibility and affordability make this circuit all the more famous. While Delhi lets you explore Mughal architecture, Agra allows you to experience architecture marvels related to Indo-Persian style. Not to forget Jaipur's vibrant and colorful markets where one can buy Rajasthani artwork and textiles. The Golden Triangle vacation covers famous heritage sites of India, majestic monuments and vibrant markets. One can capture amazing views of sunset/sunrise at Taj Mahal. It is one of the seven wonders of world and a major highlight of the trip to Golden Triangle. You will visit the famous city of Fatehpur Sikri which was built in 16th century by Emperor Akbar. The pink city of Jaipur lets you relive the past through its forts and palaces. Visit to City Palace, Hawa Mahal and famous Amber Fort are also included in the tour. City Palace was established at the same time when Jaipur was established. The red and pink sandstone adds more to the beauty of City Palace. Amber Fort is one of the most visited forts in India and features on the list of Jaipur's major attractions. Made of marble and sandstone, its architecture is an infusion of Hindu and Islamic styles. Along with experiencing ancient architecture in Delhi and Agra, shopping for exclusive stuff in colorful markets of Jaipur and reliving the past in palaces and forts, you will visit Jallianwala Bagh in the city of Amritsar. We also have the beating retreat ceremony at Wagah Attari Border in store for you. Trip to Golden Triangle with Amritsar will give you memories for lifetime.
Day 1 Delhi
Arrive at Delhi Airport. A representative of the Cloud Itineraries will escort you to a pre booked hotel. You have the rest of day to simply relax in the hotel.
Day 2 Delhi
Post breakfast, leave for a long tour of city. Witness the old and busy lanes of Chandni Chowk with a rikshaw ride. Pay homage at Raj Ghat which is a memorial dedicated to Mahatma Gandhi. Drive pass India Gate which was designed by Sir Edwin Lutyens and is one of the largest war memorial. Also, drive pass the impressive buildings of Parliament House and Rashtrapati Bhavan. Later visit Qutub Minar and resting tomb of Mughal king, Humayun called Humayun's Tomb. Return to hotel for an overnight stay.
Day 3 Delhi – Amritsar (Train)
Head towards Amritsar through the rail link. After resting for sometime at the checked in hotel, leave to witness beating retreat ceremony at Wagah Attari Border. This is the only open border of India and Pakistan. The purpose of this ceremony is to close the border for the night.
Day 4 Amritsar
Have breakfast and set out to visit famous Golden Temple. Its divinity is something which cannot be expressed in words but only felt. Later, proceed to Jallianwala Bagh , a place of great historical importance. It is a public garden which houses memorial of thousands of people whom General Dyer massacred including women and children. Visit Golden Temple in the evening to attend the night ceremony also known as Palki Sahab.
Day 5 Amritsar- Delhi- Agra (240 kms/4-5 hrs)
Leave for Delhi through flight and drive to Agra. Check into the hotel for overnight stay.
Day 6 Agra
Leave for a guided tour of Agra city which is home to the magnificent Taj Mahal. Visit  Taj Mahal , one of the seven wonders of world built by Emperor Shah Jahan in memory of his beloved wife. Explore Agra Fort which is an epitome of Mughal Dynasty.
Day 7 Agra Jaipur (260 kms/5-6 hrs)
 Visit Fatehpur Sikri and tour the red sandstone city of Emperor Akbar covering Jodha Bai's palace, Birbal Bhavan and Panch Mahal.  Drive towards Jaipur and check in at the hotel.
Day 8 Jaipur
Post breakfast, set out for a full day guided tour of Jaipur city which is steeped in history. Visit magnificent Amber Fort, City Palace and Hawa Mahal. These are among the important landmarks of the Pink City of Jaipur and allow you to experience rich culture and heritage of India. Enjoy high tea at Nahargarh Fort. Return to hotel.
Day 9 Jaipur – Delhi (260 kms/5-6 hrs)
Drive towards Delhi. After arriving, head straight to airport to board onward flight.
Visit to heritage sites of Delhi such as Qutub Minar and Humayun's Tomb

Witness the striking beauty of Taj Mahal, Agra

Witness beating retreat ceremony at Wagah Border

Visit Harmandir Sahib also known as Golden Temple

Visit Jallianwala Bagh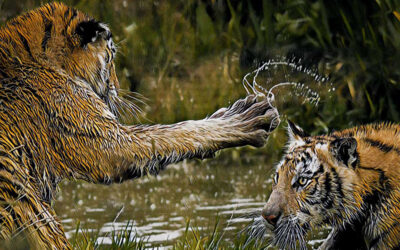 India houses a huge variety of animals. Besides domesticated animals, it is a home to Bengal Tigers, Asiatic lions, Indochinese leopards, various species of deer, barasingha, Indian elephant…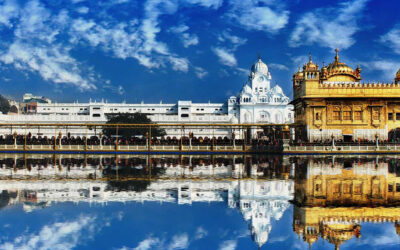 India has been a favored tourist destination and Delhi, Agra and Jaipur are some of the most visited cities of India forming The Golden Triangle Tour. This route is highly admired by tourists…
If you believe that South India is a popular name just because of its culture, heritage and tradition then you might be wrong. There are many other awe factors to this beautiful land. Architectural gems…