Hidden gems of Tamil Nadu and Kerala
South India is one such part of India that is blessed with the most diverse geographical landforms, developed states and mesmerizing architecture. This tour takes you to the most admired destinations of South India. The Kerala and Tamil Nadu tour offers architectural gems, luxurious palaces, wildlife, holy temples, tranquil lakes and mesmerizing backwaters. Cloud Itineraries has perfectly crafted the Kerala and Tamil vacation to provide an enriched experience to the tourists.
Situated between the Western Ghats and Arabian Sea, the narrow strip is known as Kerala. Tourists from India as well as other countries choose Kerala for their vacations. No doubt, Kerala is the first destination that comes to everybody's mind while thinking of a trip to South India.  Widely known for its coconuts, elephants, tigers, beautiful beaches and rich culture, Kerala is a land away from the frenzy of India. It provides you with an experience which is peaceful, relaxing and serene. Trip to Kerala and Tamil Nadu will also give you an opportunity to visit Chennai- the gateway of South India, Madurai – the temple city, Puducherry – the French colonial settlement, Kanyakumari – the beach destination and Thiruvananthapuram – the evergreen city of India.  You will get a chance to visit some globally known temples of the state including Kapaleeshwarar Temple of Chennai. The temple is a fine example of Dravidian architectural style and is dedicated to Lord Shiva. Along with this visit some other places of interest such as Santhome church and St. George museum of Chennai.  One cannot miss Puducherry which is one of the most charming places to visit in South India and a major highlight of the Tamil Nadu tour. You can take leisure walk to the vibrant markets of Puducherry or visit the Puducherry museum which is famous for its collection of sculptures. India never fails to astonish its tourists with its mythological significance as a country which is why one should not miss the majestic Meenakshi temple of Madurai. This temple is dedicated to Meenakshi, believed to be a form of Parvati. Said to be built in 6th century, the temple forms the heart of Madurai. Also witness the meeting point of three water bodies in Kanyakumari- Bay of Bengal, the Arabian Sea and Indian Ocean.
Besides the scenic beauty, there are a lot of other awe factors to these destinations. Yes, we are talking about the delicious cuisine of South India which is loved by every Indian. So don't forget to taste the regional cuisine while enjoying the trip to Kerala and Tamil Nadu!
Tamil Nadu and Kerala vacation is a complete package to explore and witness beauty of South India in a nutshell.
Day 1 Chennai
Arrive at Chennai airport. A representative of the Cloud Itineraries will escort you to a pre booked hotel. You have rest of the day to relax in the hotel.
Day 2 Chennai
Post breakfast, visit Koyambedu, flowers and vegetable market. Later visit Kapaleeshwarar Temple which is a Hindu temple dedicated to Lord Shiva. It is believed that this temple was built in 7th century. Also visit Santhome Church, Fort St. George museum and Theosophical Society.
Day 3 Chennai – Kanchipuram – Mahabalipuram (60 kms/1-2 hrs)
Leave for Mahabalipuram while visiting Kanchipuram on the way. Kanchipuram is located on Palar river and is one of the ancient cities of Southern India. Upon arrival, check in at the hotel.
Day 4 Mahabalipuram
After breakfast leave for sightseeing. Visit the shore and the five Ratha Temples along with Mahishasuramardhini Mandapa, Krishna Mandapam, the largest cave cut Hindu temple, Arjuna's Penance and the Tiger caves.
Day 5 Mahabalipuram – Puducherry (95 kms/1-2 hrs)
Post breakfast, set out to explore Puducherry. It is one of the seven union territories of India. Visit Sri Aurobindo Ashram, Puducherry museum which houses sculptures and artifacts belonging to Cholas and Pallavas. Also witness the French war memorial which was erected in the year 1937. Later in the evening, you can enjoy a walk to the markets of the city. Overnight stay at the hotel.
Day 6 Puducherry – Chidabaram – Thanjavur (180 kms/3-4 hrs)
Post breakfast, set out for Thanjavur. Halt at Chidabaram which is a small town. Upon arrival at Thanjavur, check in at the hotel. Rest of the day is free.
Day 7 Thanjavur
In morning, head out to visit Thanjavur Maratha Palace, Saraswati Mahal Library, Vijaynaga Fort, Shiva Ganga Garden, Aalangudi Temple, Brahadeshwara Temple and the Chandra Bagawan Temple. Return to hotel for an overnight stay.
Day 8 Thanjavur – Madurai (190 kms/3-4 hrs)
Drive to Madurai in the morning after breakfast. Visit the Gandhi Museum, Thirumalai Nayakar Mahal, Thousand Pillar Museum and Madurai Meenakshi Temple along with evening aarti ceremony.
Day 9 Madurai – Thekaddy (150 kms/3 hrs)
Post breakfast, start your journey towards Thekaddy. Upon arrival, check in at the hotel.
Day 10 Thekaddy
Thekkady is a paradise for people who love nature with its wild manifestations. Post breakfast, visit spice plantations like cardamom, cinnamon and pepper.  You can also visit the local market to shop for some stuff. Enjoy boat ride at the magnificent lake of Periyar National Park. A boat ride is the best way to experience wildlife and some unique plants of the park.
Day 11 Thekkady – Allepey (130 kms/3-4 hrs)
Post breakfast, leave for Allepey which is the hub of Kerala's backwaters. Cruise on the mesmerizing backwaters of Allepey. It is one of Kerala's most relaxing experiences. Overnight stay at houseboat.
Day 12 Allepey – Cochin (55kms/90 mins)
After having a sumptuous breakfast, check out from the houseboat. Set out for Cochin by road. Post arrival head straight to the airport to catch onward flight.
Visit to Kapaleeshwarar Temple, Chennai

Explore wildlife at Periyar National Park, Thekaddy

Enjoy boat ride at Periyar Lake

Cruise on the mesmerizing backwaters of Allepey

Visit the famous Meenakshi Temple, Madurai

Witness the Brihadeeswarar Temple, a World heritage site

Explore Sri Aurobindo ashram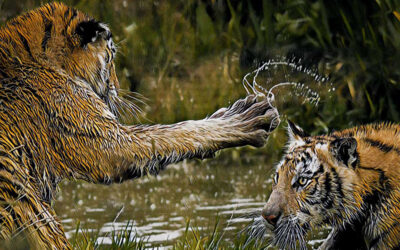 India houses a huge variety of animals. Besides domesticated animals, it is a home to Bengal Tigers, Asiatic lions, Indochinese leopards, various species of deer, barasingha, Indian elephant…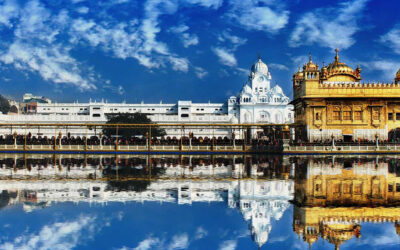 India has been a favored tourist destination and Delhi, Agra and Jaipur are some of the most visited cities of India forming The Golden Triangle Tour. This route is highly admired by tourists…
If you believe that South India is a popular name just because of its culture, heritage and tradition then you might be wrong. There are many other awe factors to this beautiful land. Architectural gems…