Golden Triangle with Tigers
India has been a popular tourist place since past decade. It offers you traditional hospitality, delectable cuisines, beautiful monuments, grand festivals and vibrant markets. The golden Triangle tour is one of the highly admired circuits of India. It takes you to India's most visited cities Delhi, Agra and Jaipur. These cities provide an introduction to India's rich heritage, cultures and its charms. Well connected by road and rail links, these cities are located at a mere distance of 200-250 kms from each other making travelling easy. While Delhi lets you explore Mughal architecture, Agra allows you to experience architecture marvels related to Indo Persian style. Not to forget Jaipur's vibrant and colorful markets where one can buy Rajasthani artwork and textiles.
Every year thousands of people travel through Golden Triangle because when it comes to experience India's history and attractions in a nutshell, Golden Triangle vacation is matchless. You will also experience Ranthambore along with Delhi, Agra and Jaipur tour. Ranthambore is one of the largest national park situated in Rajasthan and is commonly known for its Bengal Tigers. Apart from tigers one can also witness many other exotic animals such as Jackals, Black Bucks, Pythons and Cobras. It is an ideal bird watching site since it is a home to some unique birds. You can enjoy safari in Ranthambore which is one of the major highlights of this Golden Triangle with Ranthambore tour. Beside the animal kingdom, it is also rich in biodiversity and unique ecosystem. It has a lot of contrasting vegetation, plants and unique flowers. It is a heritage site because of the existence of ruins within the forest. There are some forts and lakes that exist inside the forest of Ranthambore.
This trip will surely make you skip a heartbeat, be it while witnessing the Mughal architecture through the Trip to Golden Triangle or exploring the dense forest of Ranthambore.
Day 1 Delhi
Arrive at Delhi airport. A representative of the Cloud Itineraries will escort you to a pre booked hotel. You have rest of the day to relax in hotel.
Day 2 Delhi
Post breakfast, leave for a long and guided tour of Delhi. Begin with Jama Masjid which is one of the biggest mosques and enjoy rickshaw ride through the old lanes of Chandi Chowk. Pay homage at Raj Ghat which is a memorial of Mahatma Gandhi. Drive pass India Gate, Rashtrapati Bhavan and Parliament House. All these are breathtaking structures and most impressive buildings of Delhi. Visit Qutub Minar and Humayun's Tomb. Return to hotel.
Day 3 Delhi – Agra (240 kms/4 hrs)
Post breakfast, set out for Agra by road in morning. After arriving, head directly towards hotel.
Day 4 Agra
Leave for a long tour of Agra city. Starting from local relishing cuisine to Indo – Persian architecture, there are a lot of awe factors in this land. Begin by visiting Taj Mahal, one of the seven wonders of world and an epitome of love. It was built by Emperor Shah Jahan in memory of his beloved wife, Mumtaz Mahal. Visit Agra Fort and shop for some exclusive stuff from local bazaars. In evening, explore Fatehpur Sikri and tour the sandstone city of Emperor Akbar covering the historical palace of Jodha Bai, Birbal Bhavan and Panch Mahal. Return to hotel.
Day 5 Agra – Ranthambore (250 kms/5-6 hrs)
Post breakfast, leave for Ranthambore. On the way, halt to take a rickshaw ride to experience bird watching in Bharatpur Bird Sanctuary. It is one of the finest bird sanctuaries and is also called Keoladeo Ghana National Park. Continue the road trip to Ranthambore. Post arriving, overnight stay at hotel.
Day 6 Ranthambore
Ranthambore has a wide range of activities to offer. Experience morning and evening game drives with naturalist.
Day 7 Ranthambore – Jaipur (150 kms/3-4 hrs)
Ranthambore is a famous National Park located in Rajasthan. It offers an opportunity to witness rich animal and plant kingdom. Enjoy a morning game drive in Ranthambore and drive towards Jaipur. Head to hotel. Evening is free.
Day 8 Jaipur
Leave for a guided tour of the Pink City of Jaipur. Begin with Amber Fort which is also known as Amer Palace. Built from pink and yellow sandstone, this fort is one of the most magnificent destinations to visit in Jaipur. Later witness the beauty of City Palace and Hawa Mahal. Enjoy evening tea at the very famous Nahargarh Fort. Return to hotel for an overnight stay.
Day 9 Jaipur – Delhi
Begin with the road journey towards Delhi. Upon reaching, head straight to the airport to catch onward flight.
An elaborated guided tour of Delhi

Witness striking beauty of Amber Fort

Guided tour of City Palace, Hawa Mahal and Jantar Mantar, Jaipur

Enjoy safari in Ranthambore National Park

Experience bird watching in Ranthambore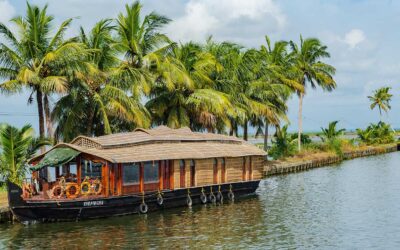 Kerala also known as God's own country is one the major tourist destinations in India. It is no doubt that Kerala is one of the most beautiful places on earth. Situated between the Western Ghats and Arabian Sea, the narrow strip is known as Kerala. Tourists from India...