Kolkata, earlier known as Calcutta is the capital of West Bengal. Situated on the banks of river Hooghly, it is known as the City of Joy. Kolkata is steeped in layers and layers of heritage and culture. It is an important center of art and history in India. Travel to Kolkata and its architecture will surely leave you amazed. From the grand Victoria Memorial to the busy Howrah Bridge, temples, old mansions and colonial buildings, Kolkata's architecture pulls off the old world charm unlike any other city. Kolkata serves as a pilgrimage for writers since it has been a home to some influential literary figures such as Rabindranath Tagore. Not to forget the delicious cuisine of Kolkata. The list of delicacies never ends here. From the famous sweet dishes like roshogolla and sondesh to the spicy chelo kabab, telebhaja and Mughlai parotha, Kolkata has it all.
This Kolkata vacation takes you to some architectural marvels of Kolkata such as Victoria Memorial. It was built in memory of Queen Victoria by Lord Curzon. The museum houses paintings, artifacts and memorials from the past. It is one of the major tourist attractions of Kolkata. You can enjoy boat ride at Hooghly River. This river is not just considered pious but is an important tourist spot. Boat ride gives one amazing views of the city which cannot be witnessed from land. Trip to Kolkata also includes visit to Jain Temple, marble street and South Park Street Cemetery which is one of the earliest non Church cemetery.
The Kolkata tour will leave you amazed with its beauty and diversity.
Day 1 Kolkata
Arrive at Kolkata airport. The Cloud Itineraries representative will escort you to a pre booked hotel. You have rest of the day to relax at the hotel.
Day 2 Kolkata
Begin the day by visiting Jain Temple which is known for its enthralling beauty, Marble Palace which is the most preserved mansions of 29th century. The Palace has a great variety of Western sculptures, paintings, chandeliers and clocks. Visit South Park street cemetery which opened in 1767 and is one of the earliest cemeteries without a church. Later, visit Kumortuli, Mother Teresa's house and famous Kalighat Temple.
Day 3 Kolkata
Explore the largest flower market of Kolkata called Mallik Ghat. The market is always sparkling and attracts more than 2000 sellers in a day. Proceed with a heritage walk of Dalhousie Square. Later visit Botanic Garden and memorial of Queen Victoria.
Day 4 Kolkata
Post breakfast, leave enjoy boat ride on the Hooghly River. The beauty and charms of Kolkata city are easily visible while boating. Later, take a metro to visit local fish market after which enjoy the hand pulled tanga rickshaw ride at Victoria Memorial.
Day 5 Kolkata – Belur Math – Kolkata
Post breakfast, leave for an excursion to Belur Math which was founded by Swami Vivekanand and is a significant institution of Kolkata. Later visit Dakshineshwar Kali Temple. Post lunch; proceed to Bay of Bengal to witness the meeting point of Hooghly river.
Day 6 Kolkata
Visit the spice and fruit markets of Kolkata. Later visit College Street Book Market. It is a home to book lovers of Kolkata. It is the largest second hand book market of the world. Rest of the day is free to relax.
Day 7 Kolkata
Catch your onward flight from Kolkata airport.
Visit the holy shrine of Jains, Jain Temple

Witness the massive Howrah Bridge

Explore the memorial dedicated to Queen Victoria, Victoria Memorial

Embrace the beauty of Kolkata city while enjoying a boat ride on Hooghly river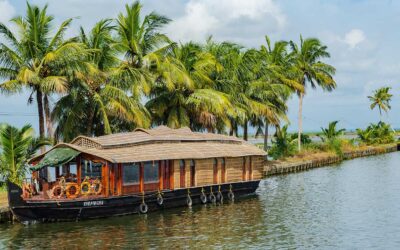 Kerala also known as God's own country is one the major tourist destinations in India. It is no doubt that Kerala is one of the most beautiful places on earth. Situated between the Western Ghats and Arabian Sea, the narrow strip is known as Kerala. Tourists from India...