Bliss in Kerala – God's own country
Tourism in India has been growing rapidly with a great influx of tourists every year. Tourists have been attracted to captivating beaches, foggy hill stations, serene backwaters, holy pilgrimages, rich wildlife, historical monuments, rich culture and heritage. Kerala, in particular is one of the most favored destinations in India. Also known as God's own country, it is blessed with the beauty of nature. Kerala is a tiny paradise and the best tropical tourist destination. The land of beauty amuses you with its amazing dance forms, music and handicrafts. Apart from this, peaceful backwaters, splendid tea gardens and coconut vendors are major highlights of trip to Kerala
This Kerala tour is beautifully crafted to suit both the needs of a family holiday and a romantic honeymoon. The trip to Kerala covers Cochin, Munnar, Thekaddy, Allepey and Kovalam. Cochin is a beautiful port city of Kerala with some interesting places to visit such as Chinese fishing nets, Dutch Palace, St. Francis church and Jewish Synagogue. Munnar is a beautiful hill station famous for its lush green hills and tea plantations. For all lovers of wildlife, Thekkady is the perfect destination. It is located near to Kerala – Tamil Nadu border and is the location of Periyar National Park. It has picturesque view of lush green surroundings and some exotic animals. Later one can enjoy the mesmerizing backwaters of Allepey and watch marvelous sunset at the serene beaches of Kovalam.
Kerala vacation is a must visit to discover the magical paradise of mountains, beautiful sceneries, serene backwaters, charming beaches, tangy cuisine and rich art and culture.
Day 1 Cochin
Arrive at Cochin airport. The Cloud Itineraries representative will escort you to a pre booked hotel. You have rest of the day to relax at hotel.
Day 2 Cochin
Post breakfast, leave for a city tour beginning with Chinese fishing nets. It is interesting to know that these fishing nets are in use since last 500 years. Proceed towards the Dutch Palace, a fine example of Kerala's architecture. Visit St. Francis church,  one of the oldest European Churches in India and Jewish Synagogue. In the evening, witness the rich culture of Kerala by enjoying a cultural performance which includes Kathakali and Kalaripayattu which is a classic martial art form.
Day 3 Cochin – Munnar (130 kms/3-4 hrs)
Post breakfast, head towards Munnar. On the way, witness the beauty of Devikulam and Pothimendu and visit tea plantations. Post arrival, you are free for leisure activities. Overnight stay at hotel.
Day 4 Munnar – Thekkady (100 kms/3 hrs)
You can relax and later start journey towards Thekkady. Post arrival, check in at hotel for an overnight stay.
Day 5 Thekkady
Thekkady is a paradise for people who love nature with its wild manifestations. Post breakfast, visit spice plantations like cardamom, cinnamon and pepper.  You can also visit the local market to shop for some stuff. Enjoy boat ride at the magnificent lake of Periyar National Park. A boat ride is the best way to experience flora and fauna of the Park .
Day 6 Thekkady – Allepey (130 kms/3-4 hrs)
Post breakfast, set out for Allepey which is also known as Venice of the east. It is very famous for its serene backwaters and breathtaking beauty. Spend a day on the houseboat enjoying the lovely surroundings. Overnight stay at houseboat.
Day 7 Allepey – Kovalam (160 kms/6-7 hrs)
Post delicious breakfast on the houseboat, check out. Procced to Kovalam by road. On arrival, check in at the hotel. The day is free of any schedule. The beaches are perfect for lazing around and indulging in sunbathing. You can witness picturesque sunsets and binge eat delicious local food. You can also pamper yourself with a relaxing ayurvedic session.
Day 8 Kovalam – Kanyakumari – Kovalam (90 kms/2 hrs – one way)
Set out for Kanyakumari which is the meeting point of Bay of Bengal, Arabian Sea and Indian Ocean. Return to Kovalam for an overnight stay.
Day 9 Kovalam
Relax and enjoy the day at the beach.
Day 10 Kovalam – Thiruvananthapuram (20 kms/45 mins)
Post breakfast, leave for Thiruvananthapuram. On arrival, head straight to the airport to board onward flight.
Sightseeing tour of the Port city, Cochin

Have a glimpse of Kerala's culture through dance and martial arts

Visit the beautiful hill station of Munnar

Witness wildlife at Thekaddy

Cruise on the relaxing backwaters of Allepey

Capture picturesque views of sunset at beaches ok Kovalam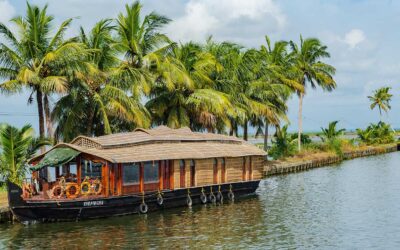 Kerala also known as God's own country is one the major tourist destinations in India. It is no doubt that Kerala is one of the most beautiful places on earth. Situated between the Western Ghats and Arabian Sea, the narrow strip is known as Kerala. Tourists from India...